Let's ask ourselves a few simple questions.  When we sit down to dinner with our families, do we know where the food we are eating has come from?   Do we know how it was raised or how it was fed?  Probably most important, what was it fed?  When it was processed, was it processed humanely?  Was it processed in a facility that is clean and free of bacteria and diseases?  As Americans become more conscious about what they are eating, these are the kinds of questions people are asking themselves.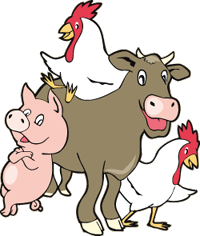 At Dostall Farms we know all of the answers to these questions. We are committed to sustainable agricultural practices that ensure a quality product today and well into the future.  All of our baby calves, piglets, and chicks are purchased from reputable farmers that have the same commitment to animal health that we do.  Hereford, Angus, Limousin, and Shorthorn cattle are what we raise on Dostall Farms, no dairy cattle of any kind. Duroc and Berkshire pigs are our pigs of choice due to their outstanding blood lines.
All Natural. No Antibiotics. No Growth Hormones.
No antibiotics, steroids, or growth hormones are ever used.  On that rare occasion we have a sick animal; all medications are administered by a highly qualified veterinarian.  Our animals are fed quality grains and grasses.  The cows are fed on the free choice system.  Alfalfa, Timothy, clover grasses, and grains are in front of them at all times, and this allows them to manage their own diets.  Many vets agree that this is the best way to feed cattle.  Our pigs and chickens are fed in a similar manner.
USDA Inspection Process
The last important part of the equation is our processors. We have chosen Rospert's Market in Norwalk, Ohio to process all of our beef and pork because of their outstanding reputation. Did you know, according to a recent USDA estimate. that in large processing facilities (re: your average meat supplier) only 1 in 24 animals are inspected!?
Every one of our processed animals are USDA inspected. 100%! 
Our Goal
At Dostall Farms we believe our value is not in what we sell, our value is in what we do for others.  Our goal is to provide the best farm fresh all natural beef, pork, poultry, eggs and honey at a competitive cost.  We feel that the beef, pork, and chicken at Dostall Farms is the best you can buy. But don't just take our word for it, check out the testimonials from our customers! Because we believe strongly in what we do, we want people to see and judge for themselves. That's why each and every fall we host a farm tour (http://ErieShoresFarmTour.com) and open our farm to the public.
Thank You
To all our customers, thank you for your patronage, we enjoy serving you and look forward to your continued support.  If you have not tried our product please consider trying our sample pack.  In 2015 we have big plans, informational articles, recipes, easier website ordering,  as well as adding lamb and goat to the product line (might even see some turkeys at the right time of the year!).
Jim & Judy Dostall
Owners, Dostall Farms
Follow us on Facebook at Dostall Farms (http://facebook.com/DostallFarms)!