We are proud to announce our partnership with Katie Hoover, RD LD, of Hoover Nutrition, LLC!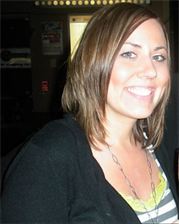 Katie Hoover, RD LD, graduated from Bowling Green State University in 2004 and obtained a Bachelors of Science degree in dietetics. Additionally, she has a minor in chemistry. Katie completed her dietetic internship at Kettering Memorial Hospital in Dayton, OH, through a coordinated distance program based at Andrews University, located in Berrien Springs, MI. Katie became a Registered & Licensed Dietitian in 2006. She is a member of the American Academy of Nutrition & Dietetics, Cleveland Dietetic Association, and the Association for Size, Diversity, and Health.
Katie started Hoover Nutrition, LLC consultant services in April 2010. As a dietitian, she is committed to making nutrition realistic and fundamental for everyday life. Katie is available to provide nutritional counseling, coaching, classes, seminars, and health fairs on a wide variety of topics and clinical conditions. She may also assist with meal planning, grocery shopping, food experiences, and cooking demonstrations. She has presented to numerous corporations, schools, and businesses.
Topics include, but are not limited to:
Eating disorders: Anorexia, Bulimia, Binge-Eating, NOS, Compulsive Overeating, Orthorexia
Healthy Eating and Portion Control
Medical Nutrition Therapy, ie: Diabetes, Hypertension, Heart Disease
Weight Management
Menu and Meal Planning
Personal Shopping Assistance
Food Experiences, ie: Supermarket Tours, Restaurants
Vegetarianism, Vegan Diets